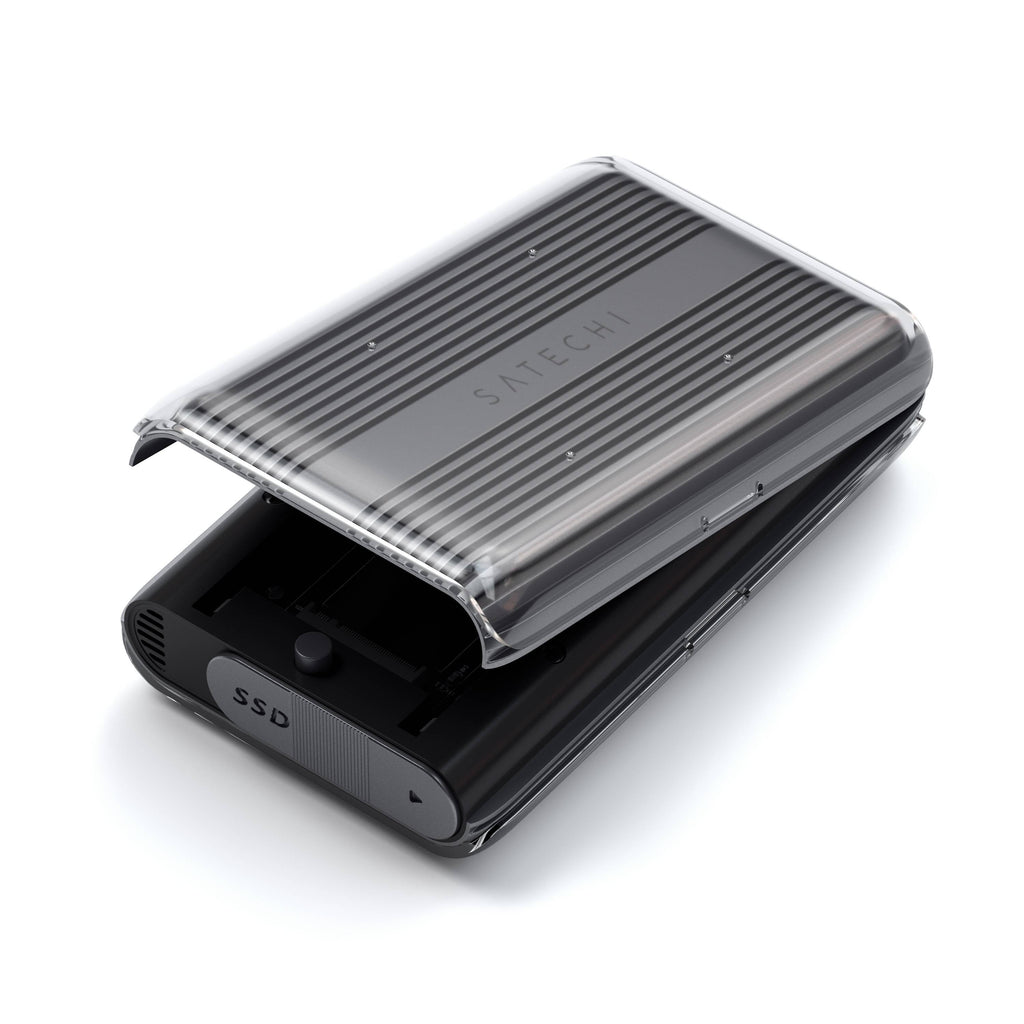 USB4 NVMe SSD Pro Enclosure
USB4 NVME SSD Enclosure
The USB4 NVMe SSD Pro enclosure allows quick and easy installation of your M.2 NVMe drive. Supports USB4/Thunderbolt 4 high-speed SSDs, with an upstream port transmission speed of up to 40Gbps. Compatible with USB4, Thunderbolt 4, & Thunderbolt 3 interfaces, also downward compatible with USB3.2 Gen2 10Gbps/Gen1 5Gbps, USB2.0 480Mbps making it the perfect solution for seamless data transfer and data backup (Note: Actual transfer speed depends on your SSD speed) USB4 or Thunderbolt 4 (40 Gbps) are recommended for ultimate speed performance. USB 3.1 Gen1 and USB 3.0 interfaces support up to 5Gbps.
Modern & Sleek
Its distinctive and durable build allows for better heat dissipation to help prevent your devices from overheating, ensuring that your host device is operating smoothly, at peak performance - With an included Polycarbonate casing allowing better overall heat disbursement, get more peace of mind when transferring files ensuring that your host device and SSD enclosure are within standard operating temperature.
Installation
Features a pin-design for a tool-free installation process that makes it easy to install and mount your SSD into the enclosure - An easy to use, plug and play design that requires no extra drivers or installation. No screwdriver is needed. 100% Tool-Free, installing a drive has never been easier.
OS Support
Plug-and-play compatibility with Windows, Mac, and Linux. SSD file system must be supported on host operating system to be accessible. As with all SSDs, new media must be formatted before use.
Total 5 star reviews: 7
Total 4 star reviews: 1
Total 3 star reviews: 0
Total 2 star reviews: 0
Total 1 star reviews: 0
It is fast

The proof is in the pudding as the cliche says.

I used it to stack images in Siril (a program designed for astrophotography) on a Mac mini M2 pro 32 GB. The images are 6240  pixels × 4160 pixels, 16 bit raw files. For the technical details, there were 197 light frames, 10 dark frames, 20 flat frames and 20 flat-dark frames: Using a SATA 7200 rpm drive in a Thunderbolt 3 enclosure, this project would normally take a little over two hours, give or take, to finish the initial stacking portion. Using this drive enclosure with a Samsung 980 Pro NVME SSD, the initial stacking portion took just over 5 minutes.

Here are the times reported by Siril:

Flat-dark::::::::: Processing all images in the sequence (20)

Convert: Execution time: 791.00 ms

Stack: Execution time: 1.93 s

Dark:::::::: Processing all images in the sequence (10)

Convert: Execution time: 386.48 ms

Stack: Execution time: 1.14 s

Flat:::::::::: Processing all images in the sequence (20)

Convert: Execution time: 670.34 ms

Calibrate with flat-dark: Execution time: 1.13 s

Stack: Execution time: 3.98 s

Light:::::::: Conversion succeeded, 197 file(s) created for 197 input file(s) (197 image(s) converted, 0 failed)

Convert: Execution time: 5.58 s

Calibrate with flat and dark: Execution time: 1 min 07 s

Registration: Total: 0 failed, 197 registered. Execution time: 1 min 43 s

Stacking info: Processing only selected images in the sequence (193) Normalization computation time: 40.77 s; Execution time: 2 min 16…

Bon produit.

Bon produit. Beau design.

Rapide 3200MB/s avec un SSD WD Black SN850x sur un Mac Studio M2 Max.

Chauffe un peu 42°C.

Attention pas complètement en alu, pas mal de plastique un peu cheap surtout au niveau du verrou.

Great SSD enclosure

Well constructed, works well, should last for years

I like it

I have a few Thunderbolt enclosure cases, and this USB4 case is at least the equal of those. I like the construction, my speed is the same with the same NVMe stick inside as with my thunderbolt enclosures. I like the Satechi hardware, I also have their Thunderbolt 4 Hub and appreciate the quality.
Reviews Loaded
Reviews Added